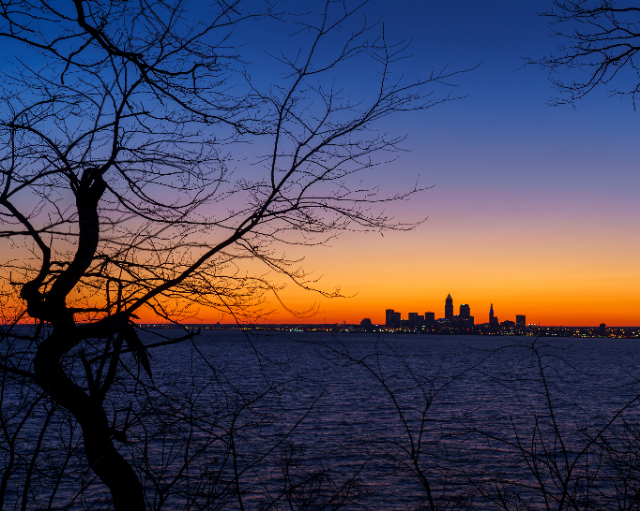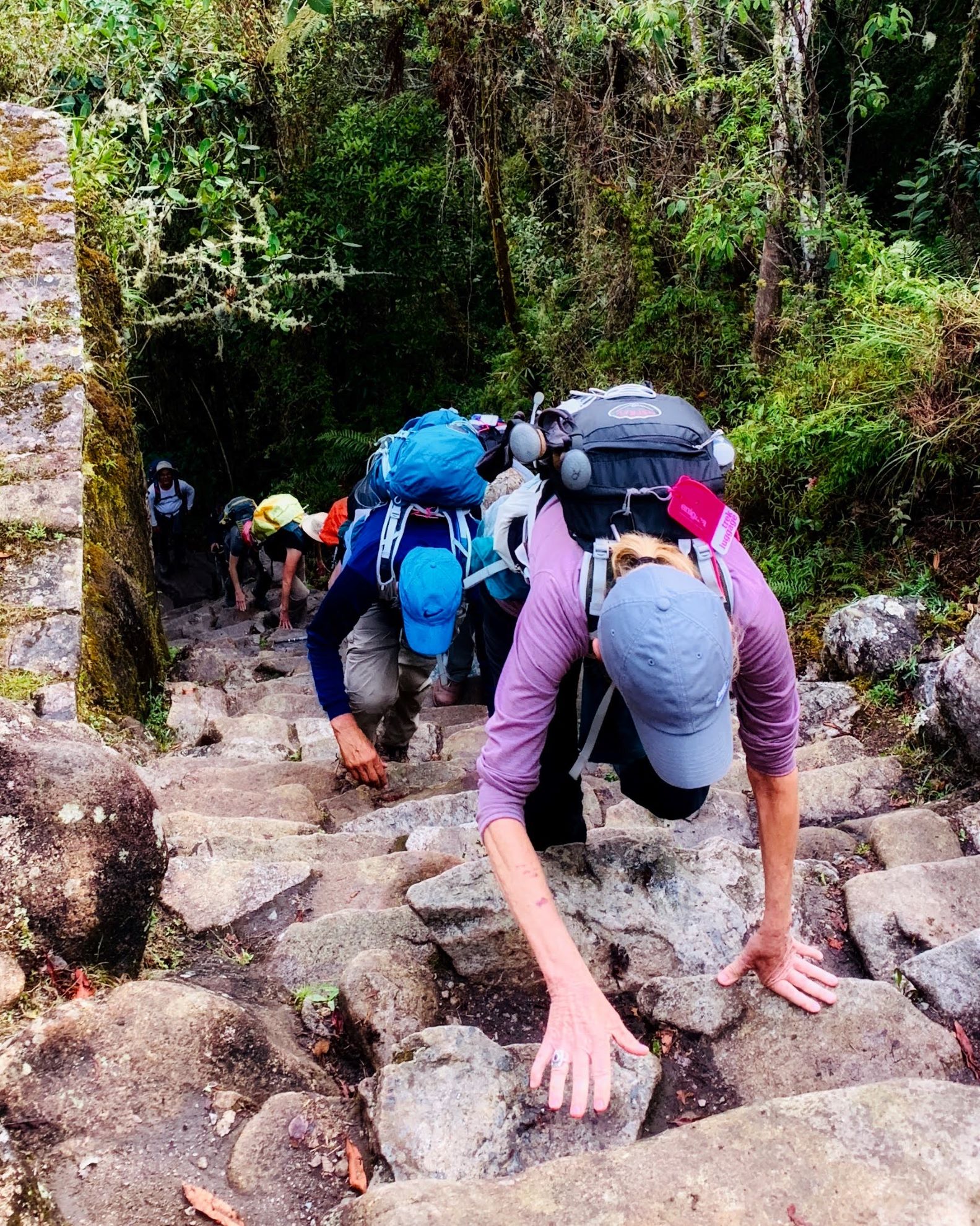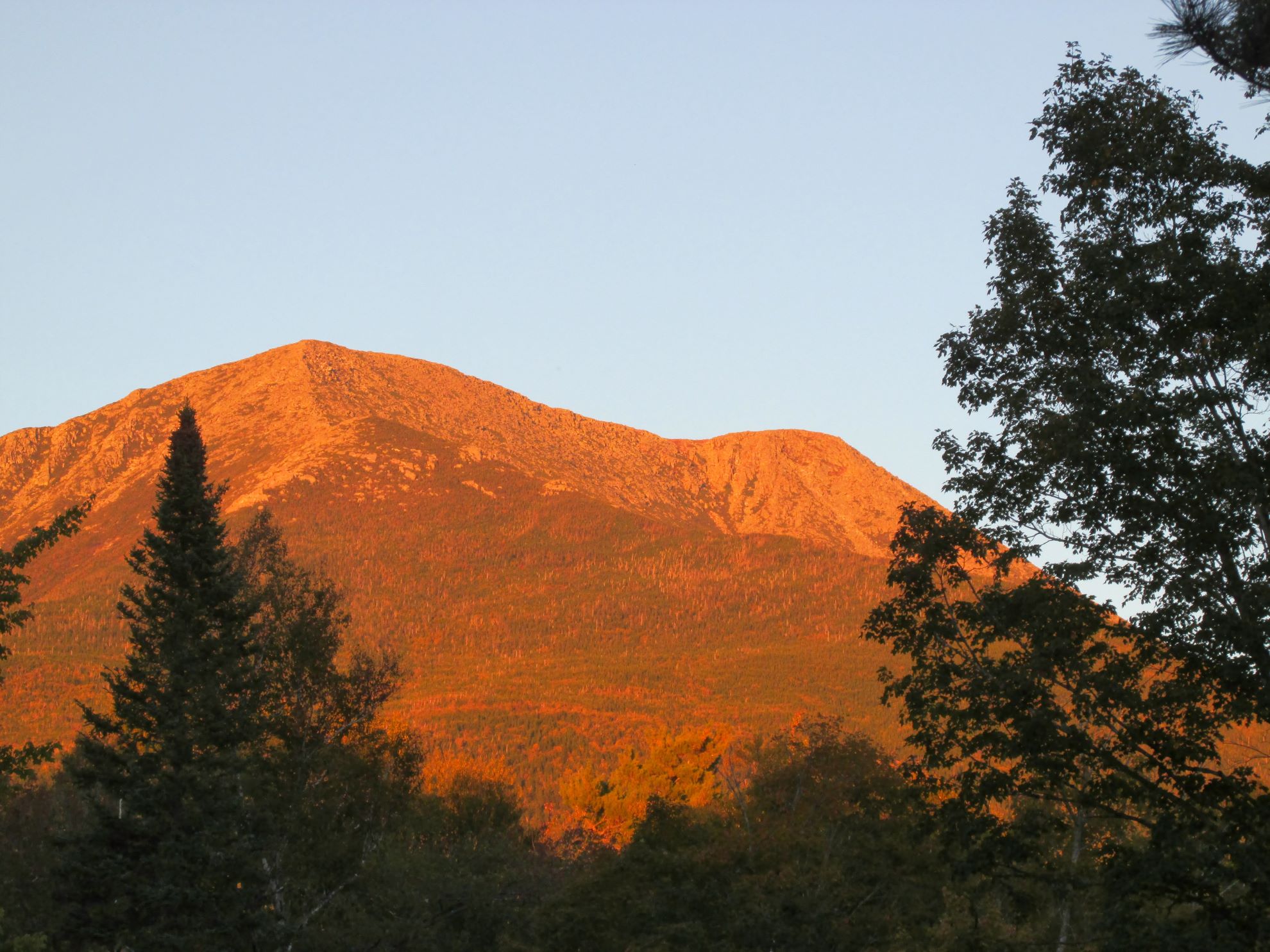 Observation Deck, Skyline Trail, West Creek Reservation
Community Outreach and Engagement
"The meaning of life is to find your gift.
The purpose of life is to give it away." - Pablo Picasso
"The meaning of life is to find your gift.
The purpose of life is to give it away." - Pablo Picasso
"The meaning of life is to find your gift.
The purpose of life is to give it away." - Pablo Picasso
Photo: Observation Deck, Slyline Trail, West Creek Reservation
Photo: Observation Deck, Slyline Trail, West Creek Reservation
Photo: Observation Deck, Slyline Trail, West Creek Reservation
Eric Cityscape
Community Outreach and Engagement
"Be the light that helps others see." - Roy T Bennett
"Be the light that helps others see." - Roy T Bennett
"Be the light that helps others see." - Roy T Bennett
Photo by: Eric McFarland, Instagram @codger.cam
Photo by: Eric McFarland, Instagram @codger.cam
Photo by: Eric McFarland, Instagram @codger.cam
Victoria Li 3rd Place Photo
Community Outreach and Engagement
"If you have a strong purpose in life, you don't have to be pushed.
Your passion will drive you there." - Roy T. Bennett
"If you have a strong purpose in life, you don't have to be pushed.
Your passion will drive you there." - Roy T. Bennett
"If you have a strong purpose in life, you don't have to be pushed.
Your passion will drive you there." - Roy T. Bennett
AT in Maine
Community Outreach and Engagement
"The sun is never denied the light it gives;
Likewise, you are never denied the kindness you bestow." - Matshone Dhliwayo
"The sun is never denied the light it gives;
Likewise, you are never denied the kindness you bestow." - Matshone Dhliwayo
"The sun is never denied the light it gives;
Likewise, you are never denied the kindness you bestow." - Matshone Dhliwayo
Photo : Appalachian Trail, Maine
Photo : Appalachian Trail, Maine
Photo : Appalachian Trail, Maine
DUPLICATE PAGE - BACKUP, JUST IN CASE Community Outreach and Engagement
Our Centennial Gift to the Community
As part of our Centennial celebration, Cleveland Hiking Club made a gift to the community. In recognition of our long-shared history, the club directed our gift to the Cleveland Metroparks Trails Fund and asked that it be used to create a legacy trail to commemorate both Metroparks 2017 Centennial and the Cleveland Hiking Club's 2019 Centennial.
Dedicated on our 100th anniversary, April 20, 2019, the Lookout Ridge Trail (now called the Skyline Trail) was built with the help of Cleveland Hiking Club members, who donated both time and funding. The trail is a fitting tribute to the long-standing relationship between the two organizations. Members have led hikes through the park system since its early days, have worked with the park system to plan and mark trails in Brecksville, North Chagrin, Bedford and Hinckley reservations, and have advocated for the creation of what are now known as Ohio & Erie Canal and West Creek reservations.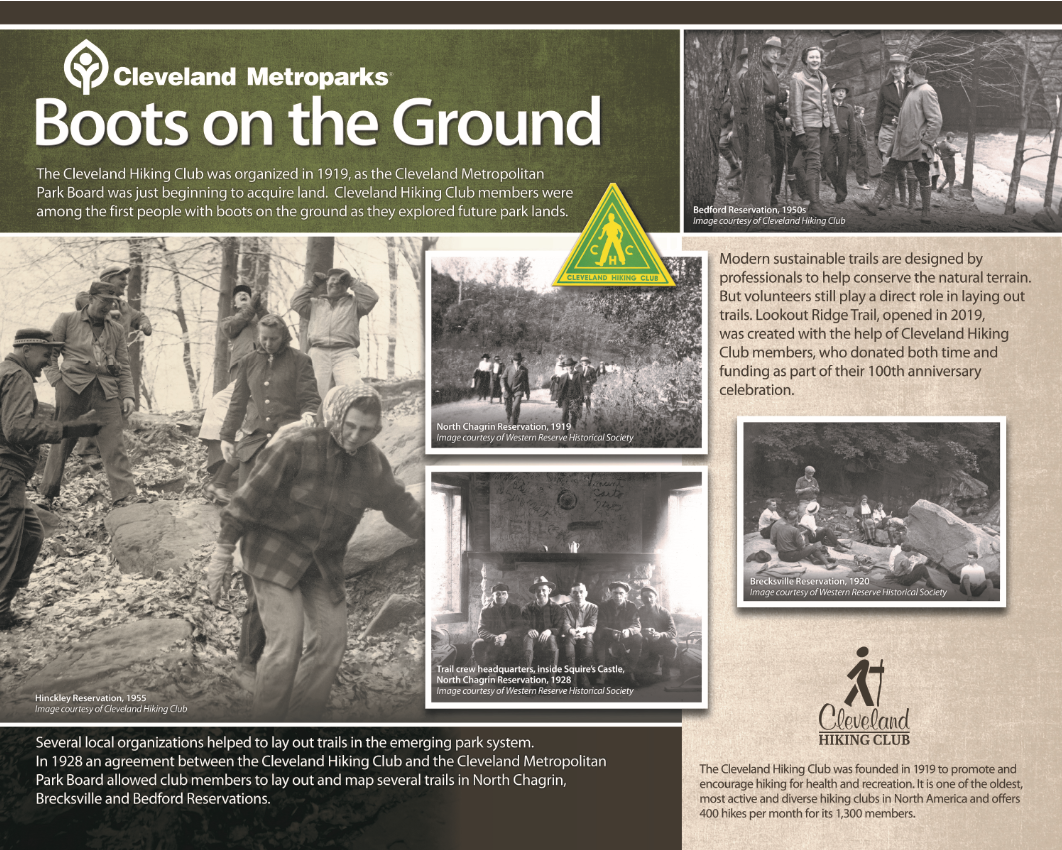 Our Continuing Community Engagement
The club receives invitations to participate in hiking related or health and wellness events in the local community. The goal of this committee is to develop an organized approach to participating in community events that is consistent with the mission of CHC: "encouragement and promotion of outdoor recreation primarily in the form of hikes and related outings." We emphasize the physical, mental, emotional and social benefits of being in the outdoors, and enjoying nature while hiking.
Not all requests for CHC participation align with this goal, so the committee carefully considers when participation is appropriate. We participated in employee wellness fairs (Moen, Fleet Response), hospital groups (The Grafted Hearts Club), at libraries, and other venues (REI).
In development is a standard slide presentation to use when invited to speak about CHC. We are also planning a display board and updated CHC brochures for use at community events.
Outreach for the Hiking Community
Cans were, essentially, money in the bank as eager members willingly gave collection proceeds to the club.  Though some hikers created traffic hazards by diving into roads after their quarry, eyes stayed on the often sticky, buggy prize with the annual take topping $2,000 in the mid 90s.  Rather than continuing to add the money to the club's coffers, Ed Horvath proposed leveraging proceeds to introduce children to the outdoors and to maintain trails.  The Outreach Committee was born.  As a result, donations were sent to the Buckeye Trail, Shoes for Kids, Ronald McDonald House and Cuyahoga Valley National Park (CVNP) for overnight camping for inner city children.  One year, the committee bought a tandem bicycle for the Cleveland Sight Center for whom it had sponsored tandem bike trail rides.  Cans also paid for Jungle Terry to appear at Kids' Day , an event resurrected by Louise McDonough then overseen by Shirley Pashall, and for trail work and roof repair at Camp Mueller.
Recycling didn't end with aluminum cans.  Shirley Lakovich removed glass from doors and windows.  Though plastic water bottles may outnumber the trusty can today, Outreach currently chaired by Alice Kruse, also has recently supported the Nature Center at Shaker Lakes, the Buckeye Trail, and CVNP.
Article taken from The Cleveland Hiking Club Centennial Book.